5.3.2019: Cornell Cup Finalists and Award Winners
Earlier this month, Drexel University was represented for the first time at Cornell University's International System's Engineering Competition (Cornell Cup). Krzysztof Mazur (BS/MS Mechanical Engineering), Sarah Malik (BS Business & Engineering), and Rakeen Rouf (BS Computer & Electrical Engineering) presented their IoT – Enabled Aircraft Safety System at NASA's Kennedy Space Center. The competition was a year-long effort and, as finalists, the team competed against ten other teams from across the country. The research was grown from Drexel's Theoretical & Applied Mechanics Group led by Dr. Antonios Kontsos in the Mechanical Engineering department. The team received a special Fusion360 Design Award for their Digital Twin modeling.
3.19.2019: Q/A with Antonios Kontsos, Phd, Associate Professor and Director of  The Theoretical & Applied Mechanics Group (TAMG), College of Engineering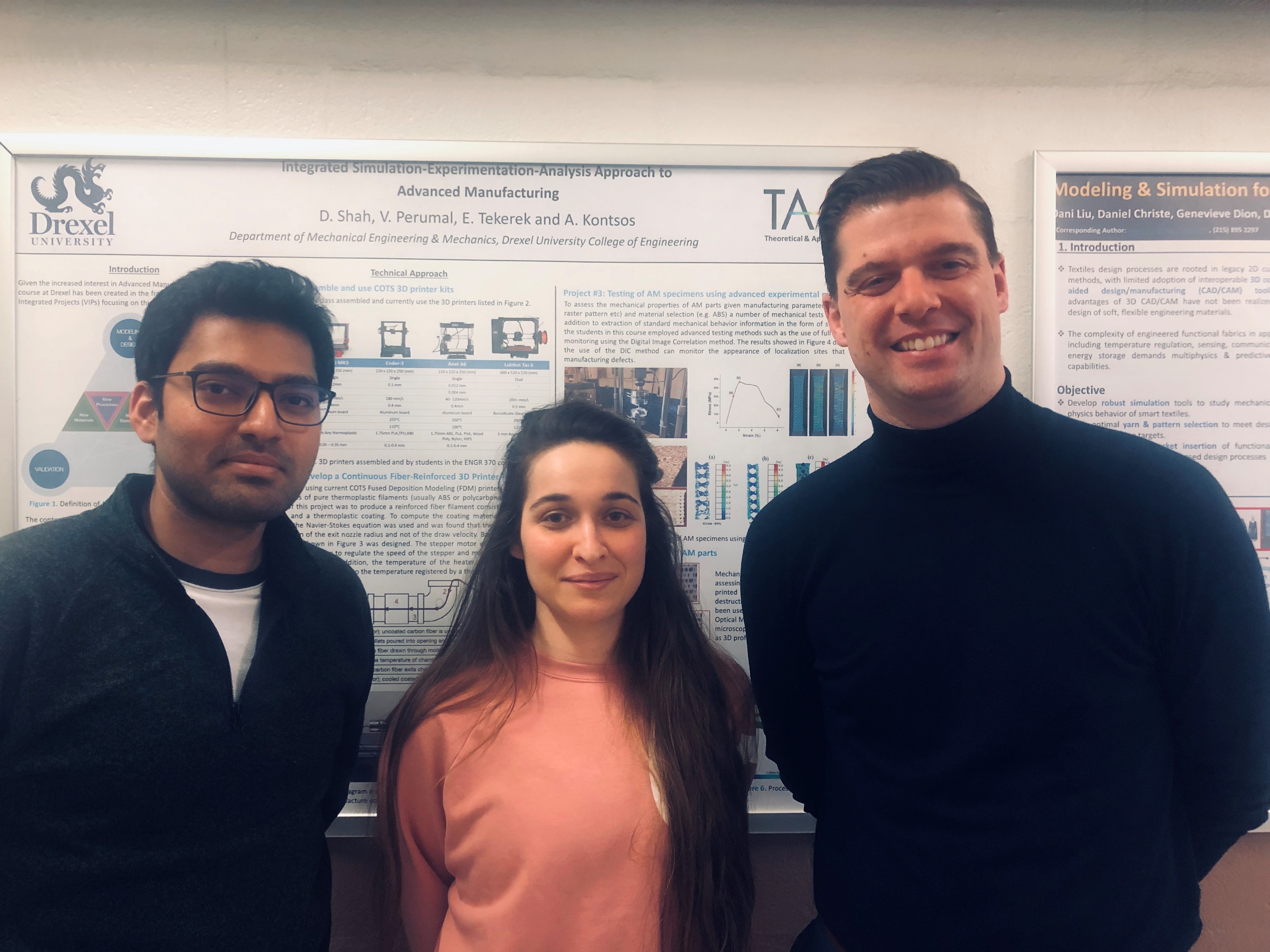 11.19.2018: Cornell Cup Semi-Finalists at TAMG
The Structural Health Monitoring IoT Project Team has progressed to the Semi-Finals of the Cornell IoT Competition.
4.24.2018: NBC Local News
TAMG's Director, Dr. Antonios Kontsos explains in a local news channel how fatigue in aircraft materials can be detected using advanced on board monitoring strategies which are currently investigated by TAMG (NBC10 Story)
3.16.2018: Welcome Ryan Siskey
TAMG welcomes Ryan Siskey in our group. Ryan is currently the Principal & Office Director of the Philadelphia office of Exponent. Ryan will be contributing in research and development efforts related to mechanical testing and characterization across scales and materials.
3.14.2018: ELOY (Engineering Leader of the Year Award dinner)
TAMG Director, Prof. Antonios Kontsos, TAMG Group Leader Dr. Brian Wisner along with students Sarah Malik and Jags Boyal attended the 2018 Engineering Leader of the Year Award dinner organized by the College of Engineering of Drexel University and had the chance to network with executives of the aerospace industry including Boeing Philadelphia.
3.4.2018
TAMG showcasing what students will be learning in the MEM Department Experimental Mechanics class.
8.31.2017
Congratulations to Maria Zhdankina for finishing the STAR Scholars program and participating in the STAR poster presentations.
6.13.2017
Congratulations to Andrew Ellenberg and Brian Wisner for graduating from with their Doctorates in Mechanical Engineering!
Congratulations to Andy Mo and Daniel Christe for graduating with a Bachelors and Masters in Mechanical Engineering!
6.9.2017
Congratulations to our freshman design team and their mentor, TAMG's Daniel Christe on winning second place overall in the College of Engineering's showcase of engineering design excellence.
4.10.2017
Krzysztof Mazur has received American Society of Nondestructive Testing's prestigious Engineering Undergraduate Scholarship for his work in nondestructive testing & evaluation and future potential in the field. Out of many participants, only 3 undergraduates in the United States are chosen yearly to receive this award. This award marks the 3rd consecutive year that a TAMG group member has received this award. Congratulations Krzysztof!
11.10.2016
TAMG's Daniel Christe was invited to speak on the American Society for Engineering Education (ASEE) chapter's first event, a panel discussion on engineering research, for new researchers. When asked to give a piece of advice to new researchers, Daniel said 
"Surround yourself with coaches and mentors, keeping in mind that it's a two-way street. Your mentors can learn from you as well. You benefit as much as the effort you put in. Get out there and experiment with future-selves."
10.29.2016
Congratulations to our RISE@Drexel Scholars from 2014 and 2016 who presented at the Philadelphia Alliance for Minority Participation's (AMP) Research Symposium, pictured with their awards. 
AMP is a National Science Foundation funded program designed to increase the proportion of underrepresented minority groups in STEM fields.  
Congratulations to all! 
10.3.2016
TAMG Alumni Kavan Hazeli (PhD, 2014) has joined the Mechanical Engineering & Aerospace Department at The University of Alabama in Huntsville as Assistant Professor. Congratulations Kavan!
07.01.2016
Our third class of Community College of Philadelphia RISE@Drexel scholars present their research proposals, covering topics from infrastructure systems, advanced manufacturing, data/informatics, and energy/environmental systems.
06.29.2016
TAMG's Daniel Christe and Dr. Kontsos, together with Liaison Librarian for Engineering Jay Bhatt share their views on game-based learning for interdisciplinary education at American Society for Engineering Education (ASEE) 2016 on Wednesday, June 29, 2016.
Christe and Bhatt are the lead content developers of the Elsevier Engineering Academic Challenge, a global game designed to hone students' research skills on the Knovel and EngineeringVillage information platforms in context of National Academy of Engineering Grand Challenges. Last year, over 2000 students in 430 universities worldwide took part in the challenge. Christe and Bhatt share their thoughts and insights on game-based learning in their whitepaper "A Game-based Learning Approach to Information Literacy", available from this link after registering for the 2016 Engineering Academic Challenge.
05.26.2016
Drexel and the Army Research Lab Forge a Partnership (for more details)
Drexel University researchers will now have the opportunity to work alongside scientists from the Army Research Lab — the Army's central laboratory. The institutions recently signed an agreement that formally connects Drexel with ARL Open Campus research initiative. With this agreement, the University strives to engage a diverse and wide-ranging network of faculty in collaborative efforts with ARL entities.
"The Army will work closely with Drexel's team lead by Professor Antonios Kontsos to formally address modeling approaches that can inform about the severity of damage precursors in aviation structures. The partnership also creates new experiential learning opportunities for students and connects them to career opportunities within the Department of Defense," said Dy D. Le, chief of ARL-VTD's Mechanics Division.
05.22.2016
TAMG hosts the 58th Acoustic Emission Working Group (AEWG) meeting on Drexel's campus in Philadelphia, May 22-25, 2016. We look forward to three days of engaging discussion of the state-of-the-art in Acoustic Emission.
05.20.2016
Dr. Antonios Kontsos wins Drexel University's award for Outstanding Early-Career Scholarly Achievement! The award will be presented at the Faculty Recognition Dinner on Wednesday, May 25, 2016.
05.19.2016
Andy Mo wins the prestigious American Society for Nondestructive Testing (ASNT) undergraduate scholarship, one of only three awarded on an annual basis. Congratulations Andy!
05.16.2016
Daniel Christe joins Elsevier's global Academic Engineering Solutions Library Advisory Board (AES-LAB) to provide strategic insights on the evolving STEM education landscape, as one of only seven advisors from the United States.
04.25.2016
Dr. Antonios Kontsos is named Assistant Director of the newly established Drexel Center for Functional Fabrics, during a university-wide town hall hosted by Provost Brian Blake.
04.04.2016
Drexel University President John Fry opened and closed his first university-wide Town Hall meeting (link) of 2016 by praising the multidisciplinary team that made Advanced Functional Fabrics of America possible.
President Fry remarked:
"This was a really, really big moment for our University. In the six years I've been here, this is the single most important thing I've seen," said President Fry. "We are competing against — and winning against — absolutely some of the best universities in the country. This was a long shot going in. But the best ideas and the best people won against the best universities in the country."
04.01.2016 – Advanced Functional Fabrics of America becomes the 8th National Manufacturing Innovation Institute
The U.S. Department of Defense has tapped Drexel University as a key leader in the creation of a $75 million national research institute that will support American textile manufacturers in bringing sophisticated new materials and textiles to the marketplace. The institute, called Advanced Functional Fabrics of America (AFFOA), will be a national manufacturing resource center for industry and government to draw on the expertise of academic researchers working with new fibers, fabrics and materials and developing the technology that can integrate them into products from active wear to protective armor. Secretary of Defense Ashton Carter formally recognized AFFOA as one of the White House's National Network for Manufacturing Innovation Institutes in a ceremony at the Massachusetts Institute of Technology. To view the livestream, follow this link here. Governor Tom Wolf of Pennsylvania highlights the Drexel team's pivotal role in AFFOA at the 41 minute mark.
TAMG's
Daniel Christe
(BS/MS, 2017) and
Dani Liu
(PhD Candidate) are currently involved in this effort under the supervision of a transdisciplinary team of faculty here at Drexel composed of world-renowned fashion designer
Genevieve Dion, Associate Professor and Director
of the
Shima Seiki Haute Technology Laboratory
, computer scientist
Dr.
David Breen
an associate professor and director of the
Drexel Geometric Biomedical Computing Group
and TAMG's Director
, Dr. Antonios Kontsos
, to produce physics-based computational mechanics and multiphysics modeling methods to enable predictive design and to manufacture the next-generation of products based on functional fabrics.
03.21.2016
TAMG warmly welcomes PhD student Melvin Matthew to the group!
03.09.2016
Krzysztof Mazur describes his experience navigating the challenges of independent research, as a freshman STAR scholar in TAMG in a leadership seminar organized by the Paul Peck Scholars program. The STAR program is a summer research experience organized by Drexel's Pennoni Honors College to give high-achieving freshmen early exposure to research and encourage graduate education.
03.05.2016
TAMG puts on a show of Unmanned Aerial Vehicles (UAVs), in-situ testing capabilities, and smart textiles for prospective Drexel students and parents in the Department of Mechanical Engineering and Mechanics' Spring Open House .
02.26.2016
TAMG's Andrew Ellenberg presents his poster entitled "Structural Deformation Measurements using a Novel Photogrammetric Method" in the Drexel's 8th annual IEEE Graduate Forum.
02.26.2016
TAMG's Daniel Christe presents in the Graduate College's first Books and Bagels: Conversations on Interdisciplinary Research seminar of 2016, with a talk on modelling knitted functional fabrics in 3D.
02.18.2016
Taking a short break from TMS 2016, TAMG tours the Parthenon replica in Nashvillle, TN – originally built for the Tennessee Centennial Exposition in 1897.
02.17.2016
TAMG's Brian Wisner is awarded 3rd place for his TMS 2016 poster entitled "Microstructure-Sensitive Investigation of Aluminum 2024 Fatigue Damage Precursors using Acoustic Emission". Congratulations Brian!
12.1.2015
TAMG congratulates Sara Schlenker on passing her PhD Candidacy exam!
9.1.2015
TAMG warmly welcomes Ryan Whitmore and Alex Eliers (visiting from University of Applied Sciences, Bremen, Germany).
6.13.2015
Congratulations to our 2015 graduates! We wish you the best in your future endeavors!
Jefferson Cuadra, PhD and Michael Cabal, MS
5.28.2015
Dr. Antonios Kontsos is promoted to the rank of Associate Professor with tenure. Congratulations Dr. Kontsos!
5.13.2015
TAMG congratulates Jefferson Cuadra on winning the Acoustic Emission Working Group's (AEWG) Best Student Paper Award, for his work presented at AEWG-57 May 13-16, Chicago, IL.
4.23.2015
Dr. Kontsos gives an invited seminar on Microstructure-sensitive Fatigue Using Multimodal Nondestructive Evalution to Johns Hopkins Center for Integrated Structure-Materials Monitoring and Simulation.
2.16.2015
TAMG welcomes Dr. Stavros Gaitanaros of Massachusetts Institute of Technology for an invited seminar. (MEM Seminar Announcement)
2.9.2015
TAMG welcomes National Science Foundation DEMS and MOMS Program Director Dr. Thomas Siegmund for an invited seminar. (MEM Seminar Announcement)
1.6.2015
Andrew Ellenberg successfully completes his PhD Candidacy Examination!
12.9.2014
TAMG congratulates Satish Rajaram for successful completion of his PhD Candidacy Examination!
11.17.2014
Dr. Kontsos receives the Student Section Advisor Award at the 2014 ASME International Conference in Montreal !
Dr.Kontsos & Jefferson pose with Dr. Pol D. Spanos of Rice University, Dr. Kontsos' PhD advisor.
Pol D. Spanos was awarded honorary ASME membership for his "seminal contributions to the dynamic analysis and design of diverse mechanical systems; for effective pedagogies that have advanced engineering education; and for achievements resulting from a resolute commitment to societal improvement through engineering innovation".
11.11.2014
Brian Wisner successfully completes his PhD Candidacy examination!
10.21.2014
TAMG congratulates Daniel Christe for landing a competitive internship at Los Alamos National Laboratory beginning in the Spring of 2015!
10.18.14
The article Microstructure-Sensitive Investigation of Magnesium Alloy Fatigue is accepted for publication in the International Journal of Plasticity!
"This article presents results relating macroscopic fatigue behavior to microplasticity, twinning activity, and early fatigue crack formation in wrought magnesium alloy specimens of the AZ series. Experimental data were obtained by testing standard-sized samples prepared to be also suitable for direct microstructural quantification using scanning electron microscopy and electron back scatter diffraction for texture, grain-scale observations and fractography, as well as surface morphology measurements using white-light interferometry. In addition, in situ nondestructive monitoring of the fatigue behavior was performed by using the Acoustic Emission method. To describe the plastic anisotropy, tension–compression asymmetry, pseudoelasticity and their evolution as a function of fatigue loading, strain-control experiments of varying amplitude were conducted in several steps. Experimental measurements at different stages of fatigue life revealed repeatable occurrences of twinning–detwinning, which is further shown to be coupled with reversible surface roughening. It was also found that although tension twinning contributes considerably to overall plasticity, it could also give rise to crack initiation towards the end of the fatigue life. The role of the reported microplasticity effects was additionally explored using a Continuum Dislocation Dynamics Viscoplastic Self-Consistent (CDD-VPSC) model for the first two cycles of the fatigue life. The intention of this section was to incorporate the effect of twinning–detwinning into the CDD-VPSC model and subsequently to capture the experimental effects associated with changes in the fatigue hysteresis observed between first and second cycle. These simulation results were consistent with the hypothesis that detwinning is responsible for the anomalous hardening behavior during the tensile part of the cyclic loading in the first few cycles of loading. This observation was confirmed for several imposed strain amplitudes and was achieved by properly defining an appropriate boundary condition that allows surface morphology changes. Furthermore, the experimental test plan allowed the quantification of the fatigue life in terms of hysteresis loop parameters including plastic/elastic energy, residual stiffness, as well as mean and extreme stresses. Finally, an energy-based relationship for the evaluation of fatigue behavior based on the Ellyin–Kujawski formulation was found to provide life predictions that agree with obtained experimental information"
09.9.14
Drexel University Libraries In Circulation newsletter publishes an article featuring RISE@Drexel's thorough integration of digital Information Resources to educate future STEM Leaders.
08.26.14
TAMG warmly welcomes Postdoctoral Research Associate Konstantinos Baxevanakis and visiting scholar Alexander Michna (University of Applied Sciences Bremen) beginning in the Fall of 2014.
07.30.14
TAMG warmly congratulates our RISE@Drexel scholars, visiting Community College of Philadelphia students for their successful completion of ten-week independent research projects in STEM. Scholars showcased their work before a diverse audience in Drexel University's newly opened Gerri C. Lebow Hall.
Special recognition to TAMG's visiting RISE@Drexel Scholar, Tawanda Sydnor (Mentor: Daniel Christe) for her work on Physics-based Computational Modeling of Knitted Smart Textiles
06.14.14
Congratulations to our 3 Class of 2014 graduates!!!
Kavan Hazeli, PhD in Mechanical Engineering & Mechanics
Prashanth Abraham Vanniamparambil, PhD in Mechanical Engineering & Mechanics
Aditi Ramadurgakar, BS in Materials Science & Engineering
06.10.14
Congratulations to Prashanth Abraham Vanniamparambil, a newly minted PhD!
Thesis: A Cross-validated Nondestructive Evaluation Approach for Damage Detection Using Acoustic Emission
(Advisors: Ivan Bartoli,Civil & Environmental Engineering & Antonios Kontsos, Mechanical Engineering & Mechanics)
06.04.14
Our resident Google Explorer, Jacob Zeitzew presents his TAMG-sponsored freshman design project entitled "Remote Structural Analysis Utilizing Optical Heads Up Displays and Unmanned Aerial Systems". Awesome job Jacob!
06.03.14
TAMG warmly welcomes visiting Community College of Philadelphia students for the inaugural year of

RISE

@Drexel, a three-year Department of Education grant to increase the proportion of minority groups receiving STEM degrees.
TAMG's Daniel Christe and Jefferson Cuadra discuss their research experiences, immediately followed by a poster session comprised of over 40 posters drawn from all departments in the College of Engineering.
05.30.14
Daniel Christe is featured in a blog post sharing his experience using Drexel University Libraries' comprehensive Engineering Databases to further his research.
05.2.14
Michael Cabal is selected for a prestigious summer research internship at NASA Langley focused on "Effect of Microstructure on Fatigue Crack Initiation". Congratulations Michael!
04.29.14
TAMG Director Dr. Antonios Kontsos receives the prestigious Young Investigator Award from the Office of Naval Research for the proposal "Identification of Fatigue Precursors for Multi-scale NDE & Prognostics".
04.25.14
Congratulations to Andrew Ellenberg for receiving the highly selective American Society for Nondestructive Testing Fellowship award!
03.25.14
Jefferson Cuadra receives the Koerner Award from Drexel College of Engineering, funding his last year of Phd studies. Congratulations Jeff!
03.13.14
Congratulations to Dr. Kavan Hazeli, our first PhD graduate!!! Dr. Hazeli will begin his postdoctoral career at the Hopkins Extreme Materials Institute (JHU | HEMI). We wish him all the best in his future scientific endeavors.
Thesis: Microstructure-Sensitive Investigation of Plasticity and Fatigue of Magnesium Alloys
The committee members, Dr. Alan Lau, Dr. Antonios Zavaliangos, Dr. Antonios Kontsos (TAMG Director), and Dr. Anthony Rollett (CMU) pose with Dr. Hazeli.
03.12.14
TAMG participates on the Enhancement of Seismic Performance and Design of Partially-Grouted Reinforced Masonry Buildings Project funded by the NSF George E. Brown, Jr. Network for Earthquake Engineering Simulation Research (NEESR) at UC San Diego, CA

. A live stream video of our group's and collaborators' efforts can be seen in the following link:
The TAMG & Trilion Quality Systems Digital Image Correlation team poses in front of the structure.